If I'd tried this thread 10 years ago, I would have been laughed at for being so optimistic that Terrence Malick would work again after The Thin Red Line (1998). But now, after making The Tree of Life (2011), it seems to unlocked his creative floodgates, (he had been working on it since 1978, and could never find a suitable approach for it). Now, he's everywhere!!

In the wake of The Tree of Life being released, and winning the Palme D'or at Cannes this year, Terrence Malick has FOUR films in various stages of development!!

You can't get away from him now!! Here's the lowdown on those 4 films he's working on now.
The Burial
This is one he shot last year in Oklahoma. It's a romantic drama starring Ben Affleck as Neil, a man who returns to his hometown and reconnects with past girlfriend Jane (Rachel McAdams) after his marriage to a European woman called Marina (Olga Kurylenko) collapses. The film also stars Javier Bardem, Rachel Weisz, Barry Pepper, Jessica Chastain and Michael Sheen. It's due out in 2012.
Voyage of Time
Now this has all those cool special effects that were created for The Tree of Life. It's a natural history documentary about the creation of the Universe, Earth and Life using the same effects and alot more, this time with an added narration by Emma Thompson and Brad Pitt!!

Those brilliant effects for The Tree of Life were supervised and created by the great Douglas Trumbull, who did the effects for other great films like 2001: A Space Odyssey, Close Encounters of the Third Kind and Blade Runner.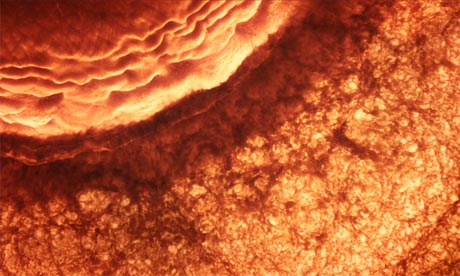 Lawless
Now, this is the one where Malick has been spotted more times than soft mick. You wait 30-40 years for an appearance, and he makes LOADS in the space of a few weeks!!

First he was spotted filming something at the Austin City Limits Music Festival with Christian Bale. A few weeks later, the title was announced, Lawless, and joining Bale in the film were Ryan Gosling, Rooney Mara and Cate Blanchett!! Nothing is known of the plot yet, but as they were filming at a music festival, I'm guessing music will be it's focus. It's filming in Austin, Texas now.
Knight of Cups
Now, this is another film that Malick is hoping to shoot back to back with Lawless, and nothing is known about this one either. Except that it stars Christian Bale and Cate Blanchett. We should know more about it when Malick starts work on it.
So, what's got into Malick. Is he making up for lost time?? Did making The Tree of Life unlock something within him wanting to make more films?? Will these new films be as good as the 5 he's given us from Badlands (1973) to The Tree of Life (2011)?? Who knows?? But, it's a new phase in his career. Is he selling out and going commercial?? We don't know yet, but from all the appearances he's made while filming Lawless, you get the feeling he's just one step away from doing interviews and going to premieres.